ΣΤΗ ΛΙΣΤΑ ΤΟΥ ΙΝΣΤΑΓΚΡΑΜ Η ΣΑΝΤΟΡΙΝΗ
16Η ΜΕ 50Η ΤΗΝ ΑΘΗΝΑ-ΦΩΤΟΡΕΠΟΡΤΑΖ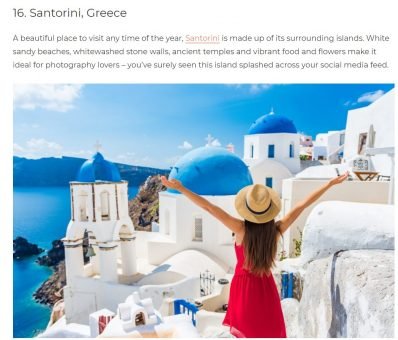 Η Σαντορίνη και η Αθήνα βρίσκονται στη λίστα με τα κορυφαία 50 από τα πιο «Instagrammable» (με τις περισσότερες θεάσεις στο δημοφιλές κέντρο κοινωνικής δικτύωσης, σύμφωνα με το Big7Travel που αναδημοσιεύει η Daily Mirror.
Φυσικά μια μικρή παρέκκλιση την έχει, επειδή η Σαντορίνη, είναι διάσημη για τις μαύρες παραλίες της και όχι για τις λιγοστές, λευκές. Γράφει το ρεπορτάζ:
 « Η Σαντορίνη κατατάσσεται στην 16η θέση, με την έρευνα να σχολιάζει: «Ένα όμορφο μέρος για να επισκεφθείτε οποιαδήποτε στιγμή του χρόνου, η Σαντορίνη αποτελείται από τα γύρω νησιά της.

 Οι λευκές αμμώδεις παραλίες, οι ασβεστωμένοι πέτρινοι τοίχοι, οι αρχαίοι ναοί και τα εύγευστα φαγητά και τα  λουλούδια το καθιστούν ιδανικό για τους λάτρεις της φωτογραφίας».
50. Athens, Greece
49. Baku, Azerbaijan
48. Phuket, Thailand
Few places wow like Phuket's stunning beaches complete with nodding palms and ancient towns full of bustling markets and centuries-old temples. Thanks to its perfect blend of scenic and cultural beauty, there are plenty of wow-worthy photo ops. Some of the most Instagrammable spots are Big Buddha, a 45 metre tall Budda that sits high above Phuket; Phuket's old town street art; the gorgeous Wat Chalong temple and Surin Beach.

47. Helsinki, Finland
The Finnish capital is loaded with things to see and do to help you bring Helsinki to life on the gram. Top to bottom, the whole city is aesthetically pleasing from its vibrant neighbourhoods like the design district to its unique minimalist architecture and art nouveau buildings. In fact, Helsinki is home to the largest concentration of art nouveau buildings in Northern Europe. So be sure to get a few snaps of Helsinki Central Station, the National Theatre and Kallio Church to wow your followers with Helsinki's turn of the century charm.
46. Sofia, Bulgaria
Easily one of Europe's most funky and trendy capitals, Sofia is a hit among Instagrammers. Whether you photograph the serenity that surrounds Cathedral Saint Alexandar Nevski, the countless vintage trams that weave through the city, or hit up the Ivan Vazov Theatre, there will be plenty of incredible insta-ops along the way. 
45. 

Cape Town, South Africa

Dramatic scenery, fantastic hiking trails and deserted beaches that boast spectacular ocean views. What more could you ask for? Cape Town is an Instagrammer's dream location to visit: endless natural beauty and clifftop views, pastel pink neighbourhoods and turquoise waters.
44. Tallinn, Estonia
Tallinn is quickly becoming a more and more popular tourist destination, and it's not without reason. The Estonian capital is full of stunning gothic towers and unbelievable old world charm in addition to some of the best-preserved medieval architecture in Europe. Basically, you're set for some very easy Instagrams. Climb the 258 steps to the top of St. Olaf's and take the city in from above and then slowly stroll the streets of Old Town and take in one of the most beautiful medieval towns around. Want to really capture local Tallinn life? Head to the bustling marketplace of Town Hall Square. 
43. Nice, France
Situated on the French Riviera, Nice checks all the boxes for a super Instagrammable city. You've got the stunning beach, wonderful local culture, countless historical quirks and more cosy cafes than you can handle. Stroll the Promenade des Anglais to capture one of the most picturesque streets in France, snap a few pics of the uber-colourful Place Massena and don't forget a few clicks in front of the beautiful St. Nicholas Orthodox Cathedral.
42. Bruges, Belgium
Often overlooked by its Brussels and Antwerp cousins, Bruges truly is a hidden gem. Loaded with charming canals, quaint cobbled streets and tons of medieval charm, photographing Bruges for the gram brings a totally different era to life. If all that romantic charm weren't enough, you could also find your usual line up of incredible Belgian beer, chocolate and waffles perfect for insta-foodies. 
41. Hoi An, Vietnam
Beaches! Markets! Killer Vietnamese food! Rich, ancient culture! These are just a few things waiting for you in Hoi An. This incredibly culturally rich city is busting at the seams with instagramability. Whether you're looking to capture the charming Ancient Town, the Thanh Ha Pottery Village or the vibrant Hoi An Central Market, there's plenty of photography inspo to go around. Add your snap to the 2 million+ #hoian hashtags on Instagram.
40. Marrakech, Morocco
Known for being a city of luxury full of opulent palaces, 5-star restaurants, world-class hammams and swanky riads; Marrakech is truly in a league of its own. Whether you're looking for that perfect shot while plunged in a hammam bath or strolling the wonderfully colourful markets, Marrakech has plenty in store for you. 
39. Armenia 
Crumbling churches, incredible food and breathtaking scenery are just a few things sure to captivate in Armenia. Tucked away in the Caucasus region, this culturally rich nation punches way above its weight when it comes to insta-worthy scenes. Get the perfect shot at the ever-charming Vernissage flea market loaded with trinkets and carpets galore and then explore the ancient grounds of any one of the country's many churches and monasteries. 
38. Warsaw, Poland
This Polish gem is literally oozing with colourful gothic charm perfect for wowing on Instagram. From the picture-perfect Old Town Market Square to the Wilanow Palace you're sure to be left breathless. Looking for even more inspo? Snap a few pics of Warsaw from above at the St. Anne's observation deck or wander the streets of New Town. 
37. Minsk, Belarus
Situated in the heart of Belarus sandwiched between Lithuania, Latvia, Russia, Ukraine and Poland – Minsk truly is a hidden gem. Famous for its hipster flare, delicious street food and quirks leftover from the Soviet era; there are loads to be discovered. Zoom in on the quiet charm of the Osmolovka area or stroll the streets after dark and shoot the stunning lights of the countless light sculptures. 
36. Lisbon, Portugal
Sunshine yellow trams, blistered pastel de Natas and tons of post-card perfect cobblestoned streets are just a few natural draws for photography lovers in Lisbon. Whether you visit for the historic charm, the delicious food or buzzing atmosphere, you'll be met with picture-perfect views every step of the way. There's almost 10 million hashtags on Instagram for #lisbon – it's popular!
35. Dublin, Ireland
Ireland's picturesque capital belongs on everyone's bucket list. Its plethora of medieval history, charming pubs, street art and lively culture are just a few things that make it an Instagrammer's dream. Wander the halls of the world's most epic library, aka, The Library of Trinity College and bring your #bookworm aesthetic full circle. And then clink a few pints of Guinness in the uber photogenic Temple Bar area. Either way, you're set for some great shots to join in the 12.4 million others on Instagram under the #dublin hashtag.
34. Kuala Lumpur, Malaysia
The Malaysian capital is practically oozing with insta-aesthetic. Whether you live to capture the cultural aspects of a city or are more about nature, you've got a little of both in Kuala Lumpur. Take in the lush forests of the KL Forest Park, gawk at the glorious colours of the Batu Caves and take in the serene atmosphere of the ever-beautiful Thean Hou Temple. 

33. Seoul, South Korea
The remarkable blend of ancient temples with the bustling modern atmosphere is reason enough to visit the South Korean capital. Decide if you want to spend your day snapping traditional Korean architecture, shrines and temples that'll transport you centuries into the past; or if you'd rather capture that fantastic hustle and bustle of modern Seoul. Whatever you do, don't forget a few shots through Myeong-dong's eclectic market area. 
32. Budapest, Hungary
Budapest is a stunning city for the gram in all seasons. With its relaxing thermal baths and world-class spas to jaw-dropping architecture and medieval quarters, there's lots of photographic inspiration at every turn. Be sure to soak in one of the historic medicinal spas to capture the essence of the city's ancient Szechenyi Spa Baths. Afterwards, become a regular at one of the city's super insta-worthy ruin bars. 
31. Seattle, Washington
The land of coffee, rain and lush evergreen forests is one of the world's most instagrammable spots. From its bustling local life downtown and within its markets and ferries to its convenient proximity to all sorts of natural delights like mountains and even a volcano; it's no wonder Seattle is so loved. In addition to an equal mix of city and outdoors life, Seattle also has quite the reputation for food festivals perfect for showing off your food photog skills. 
30. Vienna, Austria
Whether you're capturing the local culture, classical music scene or breathtaking palaces, Vienna is full of stunning photo opportunities for Instagrammers. Thanks to its past as the centuries-long capital city of the Hapsburg Empire, Vienna is full of history just dying to be explored. We're talking opulent palaces, filled-to-the-brim museums and baroque quarters galore. 
29. São Paulo, Brazil
São Paolo is famous for its thriving art museums and music scene, stunning panoramas and vibrant gastronomy culture perfect for capturing your Brazilian adventure. For the best grams, be sure to hit up one of the city's rooftop bars and procure the museums, cafes and avenue atmosphere of Paulista.
28. Buenos Aires, Argentina
Buenos Aires is one of those places that truly has to be experienced rather than seen. This pulsating cosmopolitan city is the perfect mashup of heritage, nightlife and modern creativity. Even better? The Argentinian capital boats pretty much the best street art scene on the continent. There's over 19 million #buenosaires hashtags on Instagram!
27. 
Jakarta, Indonesia
The sprawling Indonesian capital is a delight for every type of traveller. From the sprawling shopping centres to the age-old colonial remnants throughout Old Jakarta to the countless photogenic cafes, it's no wonder it's a hit for Instagram. Be sure not to miss the ultra post-card worthy Taman Mini Indonesia Indah; this culturally themed amusement park is mind-blowingly photo-friendly. 
26. Stockholm, Sweden
Who doesn't love a bit of Scandi charm in their feed? The Swedish capital is loved for its iconic city hall and colourful old town which happens to be one of Europe's largest and best-preserved medieval centres. Even better? The Stockholm archipelago is spread across 30,000 islands, skerries and rocks that fan out 80 km into the Baltic Sea. Simply put, the island cityscape is seriously gorgeous. 
25. Vancouver, Canada
Who doesn't want that picture-perfect shot of clinking craft brews in one of Vancouver's iconic breweries? Or how about a breathtaking sunset image over Whytecliff Park that needs #nofilter? In Vancouver, you get equal parts foodie and nature lover grams that perfectly embody the Pacific Northwest.
24. Las Vegas, Nevada
Kitschy? Yes. Overrated? Not at all. Sin City is famous for its neon marquis, sunny lanes and quirky culture perfect for the gram. Whether you capture the endless retro casinos, world-class resorts, super cheesy gimmicks or the stunning Bellagio fountains, Vegas' gram-ability is one of the best in the world. 
23. San Francisco, California
Capture the world-famous golden gate bridge at sunset; let your lens guide you down the hidden corners of the buzzing Fisherman's Wharf; the endless #foodporn moments within China Town and so much more await you in San Fran. The iconic California city is known for its rich character and endless appeal from the mindbending Lombard Street to the Queen Wilhelmina Tulip Garden. 
22. Bogota, Colombia
Two words: Colombian pizazz. From breathtaking cityscapes and panoramas to rainbows of street art in addition to crayola coloured barrios, Bogota is easy to bring to life on the gram. From the countless charming cafes to the bustling Plaza Bolivar to the storied streets of La Candelaria and more, the Colombian capital is brimming with photo ops. 
21. Prague, Czech Republic
Gothic, Renaissance and Baroque flair, oh my! The Czech capital is known for its stunning architecture and is loaded with storied buildings, churches and cobblestoned streets from head to toe. Get the iconic shot just in front of the iconic Chuch of Our Lady before Tyn and stroll the lush grounds of the Vrtba Garden and you'll be good to go. 
20. Amsterdam, The Netherlands
What could be more picture-perfect than bicycles stacked against peaceful canal bridges, Dutch Baroque neighbourhoods and floating flower markets? In Amsterdam, you'll get all that and more. Whether you're looking to capture the romance of the canals or the energy of the cities nightlife, Amsterdam has them both in spades. 
19. Moscow, Russia
Architecture lovers will delight at the onion domes of St. Basil's and the mighty Kremlin walls which have protected the Russian capital for ages. Then, there's the infinite amount of museums and picture-perfect galleries that'll surely wow your folks on the gram. After exploring the iconic Red Square, be sure not to miss the epic GUM mall and intricate metro stations.
18. Milan, Italy
It should come as no surprise that one of the world's fashion capitals is a mecca for the gram. Whether your feed is more geared toward style, history, food or culture – Milan has it all. Snap a few pics at the iconic Duomo di Milano and go from there…
17. Taiwan
From the National Palace Museum in Taipei's bustling capital to the hidden tea houses hidden deep within the rural jungles, there's plenty of allure for an Instagrammer in Taiwan. The country as a whole is loaded with culture and colour perfect for your followers. In Taiwan, you'll find loads of metropolitan wonders like the MRT station in Kaoshiung and in the countryside, you'll be met with even more beauty such as a sunrise at Alishan. 
16. 

Santorini, Greece

A beautiful place to visit any time of the year, Santorini is made up of its surrounding islands. White sandy beaches, whitewashed stone walls, ancient temples and vibrant food and flowers make it ideal for photography lovers – you've surely seen this island splashed across your social media feed.
15. Hong Kong
Hong Kong is undoubtedly one of the most visually stunning concrete jungles out there. Pay a visit to the Choi Hung Estate to see historic housing in nearly every shade of pastel; or how about the futuristic architecture of the Jockey Club Innovation Tower; or the iconic views from the Quarry Bay of the Yik Cheong Building? Either way, you'll be loaded with insta inspiration in HK.  
14. Toronto, Canada
The 6ix is known for its diverse neighbourhoods, vibrant food scene, world-class art and unique local culture. That's not all, though. Toronto is also unbelievably photogenic. From the iconic CN Tower to the endless murals, charming boutiques, historical Gooderham Building and more, Toronto has plenty to keep your lens busy. 
13. Berlin, Germany
Edgy. Artsy. And so cool. These are the vibes that the buzzing city of Berlin puts off. Famous for its thriving arts scene and rich history, Berlin is brimming with cultural landmarks, lifechanging street art and incredible museums and galleries. Whether you're a culture vulture or an art enthusiast, there's plenty to keep you snapping photos. Start with Brandenburg Gate then head to the East Side Gallery. 
12. Madrid, Spain
Buzzing markets, super photogenic tapas bars, colourful plazas and a literal crystal palace are just a few things to look forward to snapping in Madrid. This super vibrant Spanish capital is undoubtedly the stuff an insta dream with its countless historical monuments and cultural landmarks. Check out some of the 41 million amazing photos with #madrid hashtag to get some ideas before your trip.
11. Singapore
This tiny city-state off southern Malaysia is full of photo-ops. From the iconic Supertree Grove at Gardens by the Bay to the vibrant kaleidoscope of street art through Haji Lane. In addition to permanent gems, since Singapore is one of Asia's art hubs, there's almost always a unique exhibit going on perfect for those 'wow' pics. Be sure to stroll the streets of Koon Seng Road known for their colourful houses and don't forget to procure the Tan Teng Niah's house for a truly breathtaking photo.
10. Chicago, Illinois
From the mind-bending "Bean" in Millennium Park to the ultra retro Chicago Theatre, there are more than a few reasons Chi-Town is one of the most Instagrammable places in the world. In addition to some seriously photo-friendly landmarks, there are also loads of restaurants – cough, cough, Hampton Social, built for the gram. There's almost 50 million #chicago hashtags, and it's showing no sign of slowing down.
9. London, England
London is one of those cities that just can't take a bad picture – search Instagram and you'll discover more than 145 million photos tagged with the #London hashtag. From the opulence that pours out of Buckingham Palace to the iconic candy-coloured houses of Notting Hill and sweeping views from the London Eye; it's no surprise that London is truly in a league of its own.
In addition to countless landmarks, there is also an infinite number of cafes, pubs and cosy eateries oozing with Londoner charm. Yes, we're looking at you, EL&N and Churchill Arms. 
8. 
Sydney, Australia
Harbour views, iconic architecture and Aussie charm are a few things waiting for you in Sydney. Whether you want to capture the natural beauty of the harbour and hidden beaches or the atmosphere of one of Australia's most beloved cities at the Sydney Opera House or Harbour Bridge, you're covered. With more than 32 million #sydney hashtags on Insta, it's clearly a popular photo spot.
7. 
Havana, Cuba
Havana's frozen in time allure is one of the things that make it so unbelievably photogenic. With the crumbling colonial buildings and candy coloured classic cars left and right, the vintage charm is unmissable. Snap a few colourful images of the funky mural-ridden alleys, capture the old-glamour of La Guardia or just stroll Old Havana and let the inspo flow.
With almost 4 million #cuba hashtags on Instagram, it's not just us who think Havana is great. Sure, you might have some trouble wifi trouble uploading while you're there, but that's what #latergram is made for…
6. Dubai, UAE
Dubai was basically made for Instagram – take from that what you will. If you want an ultra-luxe aesthetic full of glamour and style, Dubai will be the insta-hub of your dreams. Home to one of the most luxurious hotels in the world, Burj al Arab; the legendary underwater Atlantis, The Palm; in addition to one of the world's most beautiful gardens, Dubai Miracle Garden, you'll have plenty to keep you 'gramming. 

5. Istanbul, Turkey
An incredible blend of all things east and west on the meeting point of Europe and Asia, it's no wonder Istanbul is big time photo-friendly. Capture in the pastel-coloured minarets of Hagia Sophia and then get the know the infinite cats that call the Blue Mosque home. Then browse the world-famous Grand Bazaar with trinkets, spices and Turkish lamps galore. 
4. New York City, New York
The City of Dreams, Big Apple, Gotham, the City That Never Sleeps – no matter what you call it, NYC is an experience in and of itself. Be sure to capture the timeless charm of Brooklyn, the romantic rowboats of Central Park and then head to the tippy top of the Empire State Building. NYC will undoubtedly leave you speechless at every turn. The most popular spot for pro-Instagrammers is, of course, the iconic Brooklyn Bridge. 

3. Paris, France
Charming bistros, buzzing brasseries, corner street musicians, the twinkling lights of the Eiffel Tower – need we say more? Paris is one of the world's most iconic and loved cities, and it isn't hard to see why. It's oozing with romance, style and history-making it perfect for capturing the true essence of the Parisian lifestyle. 
2. The Philippines
Home to incredible natural wonders like an underground river and tranquil rice terraces in addition to a vibrant culture and history spanning several millennia; and over 7,500 islands – the Philippines as a whole are extremely Instagrammable. From the bustling capital of Manila complete with colourful colonial streets to the absolute oasis of Boracay, the gram opportunities here are endless. 
1. Tokyo, Japan
Ancient shrines, other-worldly art exhibits and vibrant neon-lit billboards galore are just a few things that make Tokyo a hit on the gram. The bustling Japanese capital is also famous for its buzzing shopping markets perfect for capturing the essence of life in Tokyo. Take a look at Instagram and your mind will be blown: more than 53 million #tokyo hashtags reveal why this city is the most Instagrammable place in the world for 2021.